Client complained that 70% of their Customers come from Mobile Websites. The stats showed that the repeat customers visit the website via a mobile website too. Poor navigation and UX has turned down customer retention.
The Checkout Experience was time taking, because it had a lot of unecessary steps that increased the number of abandoned carts.
The Existing website had poor navigation and  less product filtering sorting options. By building a Flutter app, we catered to their requirement for an iOS and an Android app.
Complex Interdependent Filters for different categories and sub-categories of clothes is a standard for any mobile app. Customers Now-a-days are very picky about their Fashion details.
Based on the desire to find high quality products at reasonable prices in the Yemeni market, the Anayees Team started to establish Anais and set out to work to find reliable and high-quality sources to supply original products to the Anayees Mobile Shopping Store. The Anayees Mobile App is available in App Store and Play Store.
Why does Anayees need a Mobile App for their Shopify Website?
There are several problems associated with mobile websites for an Ecommerce Clothing store, like,
Limited Screen Size: Mobile devices typically have smaller screens than desktop computers, which can make it difficult to display complex designs and large amounts of information. This can be a challenge for clothing stores that need to display detailed product information and images.

Navigation Issues: Mobile devices typically have smaller screens, which can make navigation more difficult. This can lead to a poor user experience and make it harder for customers to find what they are looking for.

Unoptimized images: Unoptimized images can slow down the loading speed of mobile websites and make the user experience more frustrating.
Security Concerns: Mobile devices can be vulnerable to security threats, such as hacking and malware. This can be a major concern for clothing stores that collect sensitive customer information, such as credit card numbers, during the checkout process.
Limited Functionality: Some of the more complex functions available on a traditional desktop website may not be possible on a mobile website due to limitations in technology or compatibility issues. This can result in a limited experience for customers who prefer to shop on their mobile devices.
Moreover, developing and maintaining a mobile website can be more expensive than developing a traditional desktop website. This is because the development process is more complex and requires specialized skills.
Mobile apps are designed to run natively on a device and can access the device's camera, microphone, and other hardware and software features, capabilities directly, (which is not possible with mobile websites), which can lead to faster performance and a more seamless user experience.
Mobile apps can offer a more engaging and interactive user experience compared to mobile websites. They can use push notifications, gestures, and other native device features to create a more personalized experience for users.
Undoubtedly, the smartphone industry is growing at a fast pace in Middle East.
Smartphone sales had plateaued for several years in the Middle East before 2020. At the start of the year, most Middle East economies had been under pressure due to years of depressed oil prices, weak services sector growth and rising sovereign fiscal deficit.
2020 also saw the launch of the first 5G capable smartphone models in the region, albeit mostly in the above $600 range. Currently many Middle East Countries – have commercially available 5G networks.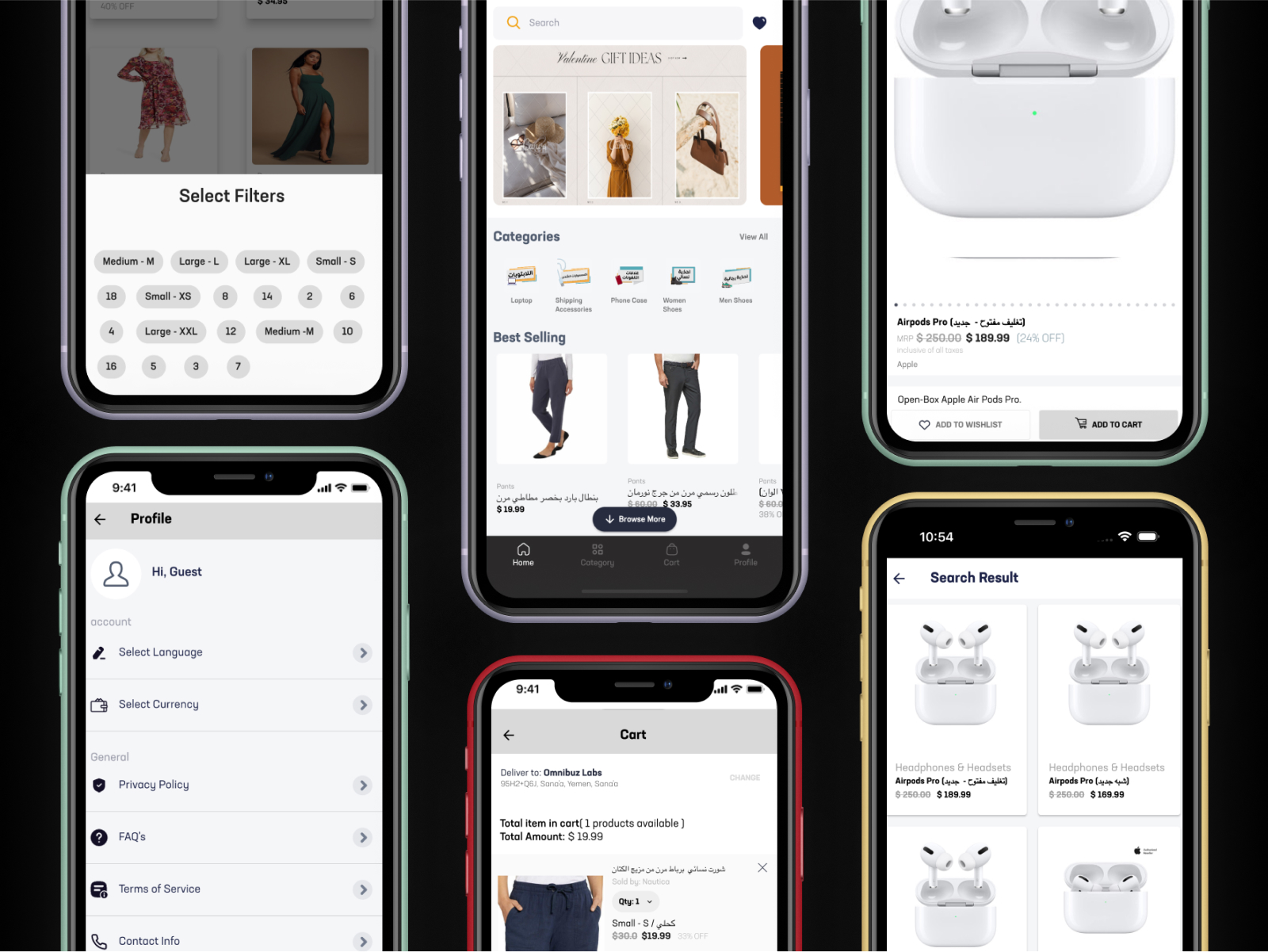 Anayees Mobile Shopping App boosted Customer Retention and increased Repeat Customers
The iOS App uses push notifications to alert users about new products, sales, and promotions, which can increase customer engagement and drive sales, all controlled via a Firebase Backed Backend System.
Offering mobile-exclusive deals and promotions can incentivize customers to download your app and make purchases through it, helping to increase sales. This can help increase customer loyalty and repeat purchases.
Both iOS and Android Mobile app had the following features:
Product Sharing
Customised Offer Notifications from One Signal
Seasonal Promotions Banners
Ordered Featured Categories
Multiple Payment Gateways
Order Tracking
The Middle East smartphone market has been through significant consolidation in recent years. As of Q3 2020, the top five brands accounted for 80% of the market, compared to 64% at the beginning of 2017.
Product Brand focused customized Mobile Application Development provides smart eCommerce apps that assist consumers in the buying decisions.
Higher Visibility to Clientele
Higher Chances of Sales
Targeting Customers through Demographics
Creating Offers and Discounts for Customers
Creating Alerts & Notifications
Global Reach Effortlessly
Build Brand Recognition
Omnibuz's Mobile App provides best-in-class features to stay ahead in the Industry like:
Multiple Social Signup options
More Checkout Options
Smart Search
Featured Categories
Multilingual CMS
Omnibuz's Tech stack also provides a wide range of features in the Merchant Panel: 
Currency Management
Profile Management
Product Promos
Cart Synchronization
Category Order Management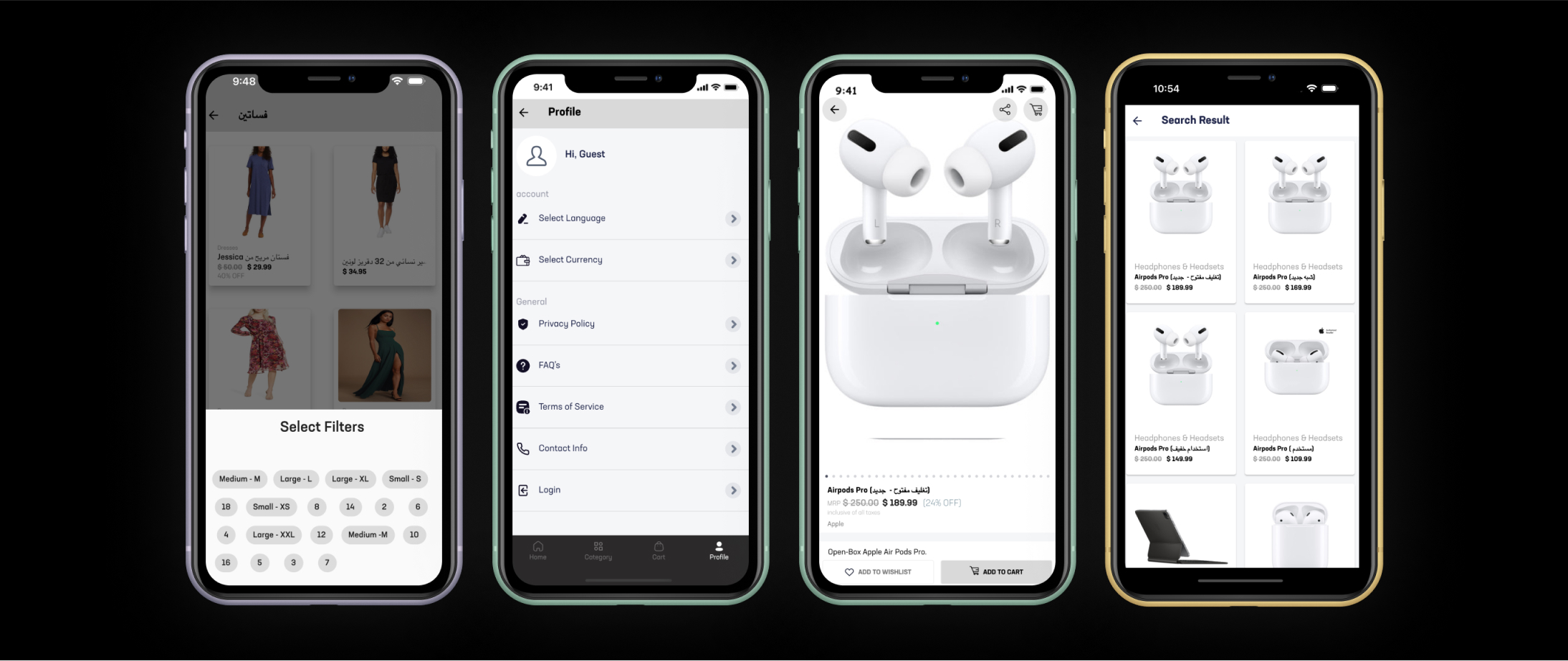 To sum it up, fashion brands can benefit greatly by creating a mobile app which allows them higher visibility for capturing their potential market segment. Similarly, the consumers are also able to gain advantage of various discounts and schemes at the comfort of their homes through a personalized shopping experience. Fashion sector related App services can streamline experiences for apparel businesses and shopaholics.
If you are looking for a custom fashion technology services, then look no further than Omnibuz. A distinguished Ecommerce Software Solution Provider like us can make you do well in your market niche through development and launch of robust mobile app.
Talk to us today for a detailed discussion and complimentary quotation.